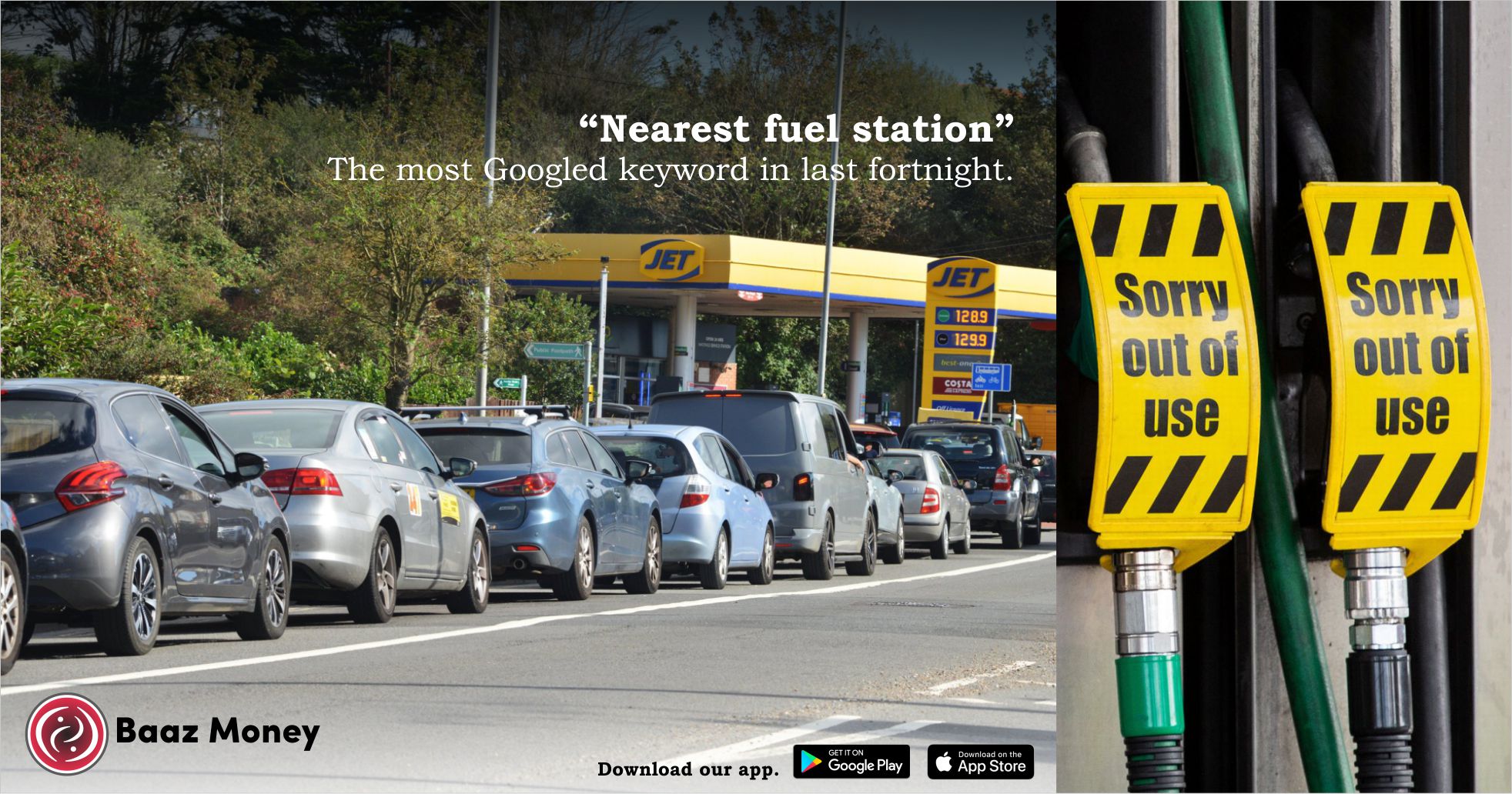 "Nearest fuel station", the most Googled keyword in last fortnight
UK's fuel crisis has resulted in long never ending queues of vehicles. Literally, the gas pumps have gone dry. Is it due to shortage of fuel?
It is not that the UK petrol pumps are facing crisis due to shortage of fuel. The United Kingdom has enough supply. But what is the real cause behind the acute lack of fuel in more than thousands of gas stations in UK?
The shortage of truck drivers and of course, panic-buying from consumers.
What is going on?
Initially, it started when companies reported shortages, including fast-food chains such as McDonald's, KFC, and other famous food chains. Even supermarket shelves have also run dry.
At first, it was a short shrug. But when oil giants BP and ExxonMobil announced the closure of some gas stations, everything changed. People knew where this would end and headed to the nearest fuel station.
Is there a Fuel Shortage?
It is a big NO from the British Government!
That's true… the shortage of truck drivers and panic-buying has resulted in the shortage of fuels even in the nearest fuel station. The supply of drivers has diminished because of changes to visa rules. This has caused tens of thousands of European truck drivers to leave Britain.
To make things even worse, COVID-19 lockdown restrictions created a backlog in training and tests for new truck drivers to get their licenses.
What are the Government's Measure to Overcome the Crisis?
Everyone has to agree that there are no quick fixes to overcome this crisis. The main thrust from government appears to be to get the motorists and other drivers to go back to their normal routine life, meaning – they must visit the nearest fuel pump only when it is necessary.
Another great measure from the Ministry of Defence is preparing around 150 qualified military drivers to deliver fuel and has another 150 personnel ready to support them anytime.
The government has decided to make use of their own reserve tanker fleet to deliver fuel over the coming days in order to ease the fuel shortage. There are signs that shows the situations had begun to improve, and more gas stations have reported that they have fuel in recent days.
The British Government has also gone one-step ahead and has extended an emergency visa programme for food haulage drivers. Temporary Visas for nearly 5,000 foreign truck drivers would be issued from late October until end of February.
Learnings from UK's Fuel Crisis
Hit badly by fuel crisis? Stop panicking! This fuel-crisis is just an alarm to start self-realization. Here are some valuable learnings everyone one of us must understand from UK's fuel crisis:
Be mindful when you use fuel; make drivers energy conscious
Turn off AC to save fuel
Choose public transport or cycle over private vehicle
Avoid using longer routes
When in signal, turn off your vehicle
Shop local
Keep tires inflated to the correct pressure
Avoid long idling
Keep the vehicle as light as possible; eliminate unnecessary weights
Avoid speeding